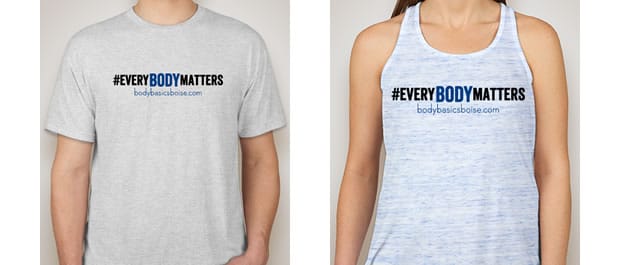 Body Basics is in desperate need of new shirts, and we decided to make our t-shirt sales into a fundraising opportunity!! We've been wanting to help a local organization for a while now and are just now getting to it! One of our clients handed me a brochure on Camp River Run a year or so ago after asking them about local non-profit organizations to support. After researching the camp and speaking with its director, it definitely is making a difference!
Camp River Run offers children with special needs (7-17 years of age) the opportunity to attend an overnight summer camp or day camps throughout the year. They invite kids with all disabilities--heart disease, MS, autism, diabetes, and so on. This may sound like a small task, but it is a big deal for most of these families and for the camp to manage and run! There are only a few camps like this one in the valley and thousands of kids with disabilities. I believe they are an overlooked population, which is another reason we chose CRR. For more information on the camp, visit campriverrun.org
Our quote on the t-shirt also has meaning.... We, of course, at Body Basics find it important to keep your BODY healthy and moving well, but most importantly we believe everybody is unique and has a purpose. In this day and age with discrimination and disrespect running rampant, this quote gives us and the world a good reminder. We matter. These kids matter. #everyBODYmatters
Our t-shirt sales will only last until JUNE 14TH, so order NOW if you want one. ALL (100%) of the profits go directly to Camp River Run. There are several different products to choose from too--tanks, tees, hoodies, and youth shirts. Good brands! The products can be shipped directly to your house (for a fee) or shipped to Body Basics for free, and they will ship once the campaign has ended.
Please let us know if you have any questions. Thank you for your support. Shane Bauges (Camp Director) thanks you too!