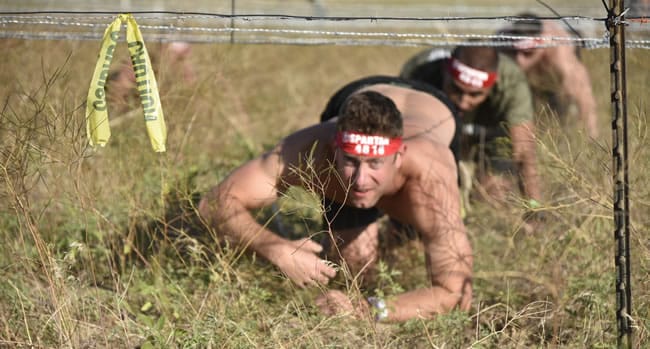 I just finished my 5th Spartan race and my 4th Boise Spartan Sprint. I'm not a huge fan of running, but I love obstacles; therefore, the Sprint is perfect for me. This year I finished with a personal best time of 41:31 and placed in the top 60 out of 4,000! I made all the obstacles including the spear throw and ran a pretty decent pace, so I thought I'd jot down what I did to train. Maybe it'll help you if you're planning to run a Spartan Race or would like to train for the Boise Sprint in 2020. If you're looking for more information on training or need someone to train you, contact me. I love training others for these events!
Keep in mind, I own a personal training studio (Body Basics) and keep myself adequately conditioned throughout the year; however, I don't run much, so for this race, I decided to start running about 10 weeks out. I started by running at a pace that simply felt comfortable. About 6 weeks out, I started running 10 miles a week and pushing my pace more. Sometimes I ran more miles a week, but I always shot for a minimum of 10. (Keep in mind, I'm not a runner, so many people may choose to run significantly more or less depending on conditioning, but I felt like 10 miles a week was a good goal.) I also made sure to have several runs between 4-6 miles to push my conditioning beyond the distance of the race. In addition, I modified my 5-day regular strength training program quite a bit and added in more obstacle appropriate exercises... I went to Home Depot and got a 5 gallon bucket and filled it with pee gravel. I also used a bunch of fun things like logs, sand bags, and an outside pull up bar. Several days a week I would create little circuits that challenge the same muscles the Spartan obstacles would challenge.
Two important elements you need for any Spartan race:
#1. You need to have a lot of grip strength. Many obstacles require you to hold or hang onto something while completing the obstacle. You have monkey bars, rings (multi-rig), the slant walls, Z-wall, rope climb, and more, so you want to be able to both do pull ups and hang or hold on for long periods of time. You also have to carry stuff like sand bags, buckets, or atlas stones through the course.
#2. You need to have a conditioned cardiovascular system. You will run, climb, and maybe even crawl up hills. Obviously, there are more elements to train, but if you have these two, you'll be off to a good start.
4 round grip and cardio circuit
Bucket carry 200 yards
20 lunges with a log on my back
15 pull ups
15 dips or push ups
3 mile run while carrying a 30 lb. sand bag on my shoulders.
This last technique is called a burden carry. This is simply taking something with you on your run. You could use something similar to a log, medicine ball, or sand bag for 3 miles. I would grab a sand bag (typically a 30lb bag) and run my normal 3 mile run. I wouldn't allow myself to walk or put the bag down even for a minute. Adding the bag did two things: First, it challenged my muscles way more than without the bag. My feet, shoulders, and core worked a lot more. Second, it kept my heart rate lower. I couldn't run as fast, but my muscles were working more, so it took something that would normally cause me to have a HR of 165 and brought it down about 10 bpm. I would say here, it's important to do both. Don't run with weight every time, but it's great to mix it in. It will also help you find your "fight" for the race. Running with a sand bag is super uncomfortable. Your traps will cramp, your feet might hurt, but don't give in. Run and push yourself! (Safely, of course.)
I also trained some in the hills. While I didn't do any trail running, I created a couple circuits at a local park with a huge hill we could climb. I did this for a group I was training for the Spartan Race, and it worked quite well.
3-4 round hill circuit
Run up the hill and back around to the park (about 1/4 mile)
Throw the spear at a target
Carry a log/sand back on your back down to a marker and back
Carry the bucket up a small hill to a marker and back
Go to the monkey bars and try to make it back and forth as many times as possible (down and back twice was our goal)
Start over!
Lastly, I did a ton of monkey bars. I'm a huge believer that it's easier to do the obstacles while hanging with elbows bent at 90 degrees. This allows you to move faster across many of the obstacles. I would hang with arms bent at 90 degrees for 1 minute, or do a ton of pull ups, or simply go back and forth on the monkey bars like kids do. This is probably one of the best training tools there is.
To conclude...
Create fun circuits that challenge the same muscles the obstacles use.
Train your cardiovascular system.(Push yourself in your circuit training).
Hang, hang, hang—pull-ups, monkey bars, etc!!
Run, run, run (with and without weight).
Have fun!
If you want help training for a specific obstacle, or have more detailed questions, please reach out to me. I would love to help!

James