So...I decided to sign up for a 24 hour GoRuck, and I convinced the original owner of Body Basics, Corey Rudd, to join me. The date is set for April 7th of this year. It's run by special forces or former military personnel and is designed to push you physically and mentally. The ruck starts at 7pm and goes to 7pm the next day. You basically march all night and day, have to carry a ton of heavy stuff including logs, water canisters, and who knows what else. Oh! You do all this while carrying an individual ruck sack (backpack) that weighs between 40-45lbs. I did the 12 hour go ruck in Boise last year, and it was challenging. While it was difficult, everyone finished, and they didn't really punish anyone that wasn't able to keep up or do the physical elements of the challenge. The entire group just had to slow down and help them. I signed up for the 24 hour GoRuck because I wanted something that would push me harder. I also liked the fact it starts out with a physical test, and if you don't pass it, you're done for the night. Only about 50% of people who sign up for the 24 hour finish it; therefore, in about 3 weeks, I'll update you, and let you know how we did. Oddly enough, my clients and everyone I know thought I was nuts for doing it and wouldn't join me. Something about staying up all night, marching with a lot of weight, having to do all sorts of physical training, and getting wet in rivers and streams wasn't an appealing get-away for most people! Beats me.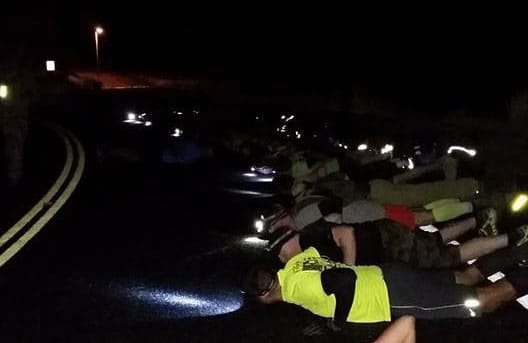 Here are some of the things I did to prepare: I tested my body's ability to fight cold since I knew we would be getting wet, and the temperature could be around 40 - 50 degrees (in Omaha). I submergered myself in a cold bath tub (no warm water at all) for 1 minute increments and tried to calm my breathing and focus on staying calm while freezing. I also soaked myself with water and went for a 6 mile run. It helped me understand how my feet will do when wet and cold. I implemented a lot of push-ups, flutter kicks, burpees, bear crawls and planks all with my pack on. I know they're going to make us do them, and I want to be as strong as I can. Lastly, I rucked with my pack. There is no substitute for wearing weight and walking. I noticed my sock and shoe combo was not good, and I had to make adjustments due to blisters. I ended up buying chaffing cream and moleskin--all of which I'm going to be testing before my ruck to see what helps the most. Oh, and I wore my pack at the gym while I was training clients. While most of my clients thought I looked ridiculous with a red and blue school-like backpack on, forty to forty-five pounds on my back seems a little normal now.
Stay tuned for updates!