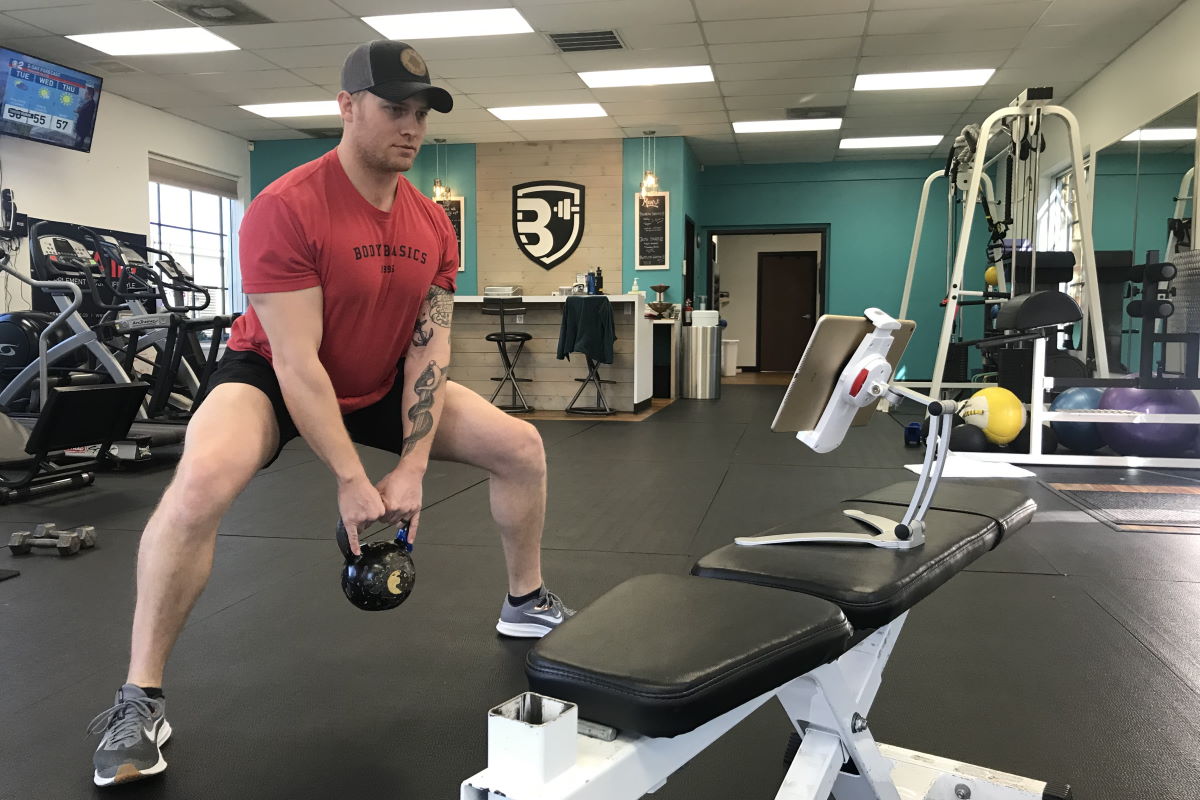 Since March of this year (2020), Body Basics has been going strong with the help of a new service—Remote Personal Training.
We are offering two types of remote services: Anytime Training & Real-Time Training.
Anytime Remote Personal Training is for those clients that have body awareness and self-motivation because it is a program that they would follow and perform at their own time without the supervision of a trainer. If the client is looking for a personalized workout fit exactly for their needs plus desires or likes accountability, then this option is a great fit! We have many clients taking advantage of it currently, and even have many that use it as an addition to their in-person workouts with their trainer.
Our Real-Time Remote Training is just like an in-person session at the gym except the client is in the comfort of their own home or on vacation somewhere. Our trainers are totally capable of creating effective workouts with any equipment available, for any age, and for any level. It has been fun for us to train the client in their own home. It helps us to get to know the client in a more authentic way, and it also helps them to see that a workout can be done pretty much anywhere!
The clients that we trained remotely throughout this COVID time have pretty much all maintained their fitness level… some even lost weight! We have heard from many of them that it has been a HUGE BLESSING, and we couldn't agree more! It truly has been a blessing… for us and them.
Body Basics is still open thankfully and is being super mindful to keep every person healthy as much as possible. We love helping our clients reach their fitness goals but also truly care for their health and wellness. We clean and sanitize before and after every client. We keep a minimum amount of people in the room at one time to ensure 6 feet distance can be maintained. We also installed a high-tech, NASA Hall of Fame, FDA-Approved Air Scrubber to help purify the air and surfaces. It's the same technology used in hospitals and even in NASA's space shuttles…. So cool!
So, if you or anyone you know is interested in one of our new remote training services, we'd be happy to answer any questions you might have! It also makes for a great Christmas present. Do you have a motivated college student that is wanting to get in shape, or do you have a wife that is wanting to stay home but wants something that's great quality? We can easily work with someone in another state or country. We recently helped someone who lives in India with personal training. Plus, we have given nutritional advice to someone in Singapore. With technology today, possibilities are almost endless!
For more information, reach out to James or Christine at info@bodybasicsboise.com.
Health & Blessings!
Christine