Hopefully, meditation/prayer is going well and you find your body reducing its stress levels. Adding on to our other challenges this week is SNACKS! Your goal this week is to choose healthy snacks — real food, less processed food. Instead of grabbing that bag of chips, reach for a handful of nuts and an apple. More ideas are listed below.
For years now the going trend has been to eat around 5 or 6 smaller meals throughout the day in order to live a healthier lifestyle. Why is this? Well, let's say you eat 1600 calories throughout the day, and you are trying to lose weight. Research has shown that spreading those calories out to 5 or 6 meals versus to 3 larger meals reaps no weight loss benefits because you are still consuming the same amount of calories. Why the hype then? Snacking or smaller meals is beneficial to us for many different reasons especially since most of us do not count calories.
Choosing healthy snack options throughout the day can add to your vitamin and mineral intake. Most Americans are deficient in their vitamins and minerals. Without realizing it, a good portion of the nutrients your body needs comes from the snacks we choose. For instance, the nutrients found in an apple and a handful of nuts tremendously improve our brain function and health. The peel of the apple includes a powerful antioxidant called quercetin that enhances memory function. Nuts contain high levels of essential fatty acids that help your brain to perform optimally. As an added benefit, nuts contain a good amount of iron and also provide oxygen to the brain which increases your mental alertness and ability to retain information, so…. having a bit of brain fog or feeling sluggish at work? Grab an apple and almonds!
Snacking stabilizes blood sugar levels, which in return PROMOTES weight loss by not overeating or eating an impulsive, unhealthy option... It's been a long day, and you finally arrive home. You know you need to start on dinner, but you're about to 'starve to death'. What do you grab?? Most of us will grab whatever is right in front of us and easy, and normally this option is NOT the best one—chips, chocolate, etc.
Preparing ahead of time, can help you break this binge-eating cycle. Everyone's glucose levels are different… Think about how often your body gets hungry throughout the day and plan for those times. Bring some healthy snack options along with you to work or when you're out-and-about to keep you from buying something impulsively. Also, clear your house of unhealthy snack options and replace them with good ones. Your home should be a place of rest and peace, not constant temptation and guilt. Save unhealthy treats for special occasions or for when you're out of the house (in moderation, of course).
Your body also needs fuel before and after a workout! You wouldn't use your phone without charging it! Not fueling your body beforehand is the same concept. If enough blood sugar is not present, your body will convert your own muscle tissue into energy. We're supposed to be building muscle not eating it away! Snacking is perfect for this. Grabbing something small to eat 45 minutes to 1 hr. before your workout will give you more energy and endurance, will help you to burn more calories and will improve your muscle tone!
Fluid and carbohydrates are the two most important fuels your body needs. Protein is also needed after high-intensity interval training or strength training due to the protein helping with muscle recovery. Getting these nutrients into your body within 30 minutes of exercising makes your body happy. It's during this time that it is able to most use these nutrients. Be careful what you choose to feed your body because it can determine if the exercise gives you energy afterwards or slows you down.
Healthy Snack Options
Plain yogurt w/ agave and berries
Canned tuna on 1 slice of Dave's Killer Bread
Edamame
Apple and handful of nuts
Brown rice cracker with nut butter & drizzle of honey
Smoothie or Protein Shake
Hummus w/ raw veggies and crackers
California Cottage Cheese Bowl w/ avocado, halved cherry tomatoes, salt and pepper
Half a sandwich
Selective Bars: Jete Bars, KIND Strong Bars, Kit's Organic Bars, etc.
Natural Recipes
Hashbrown Egg Nests
Ingredients: 15 oz. frozen shredded hash browns, thawed – 1c. cheddar cheese, shredded – 1 T. olive oil – 8 med. Eggs – salt & pepper to taste – 2 slices cooked bacon – 1 T. cheddar cheese, shredded – ½ T. parsley, chopped – 2 avocados, sliced
Directions:
Mix hash browns, salt, pepper, olive oil and 1 cup Cheddar cheese in a mixing bowl
Grease the muffin pan and divide hash brown mixture. Use your fingers to pack them tightly and shape them into nests
Bake at 425 degrees F or until the edges have browned and the cheese has melted, about 15 minutes
Crack a medium egg into each nest and season with salt and pepper to taste
Top with crumbled bacon, 1 tablespoon cheddar cheese and parsley
Bake at 350 degrees F until the egg whites set, about 13 to 16 minutes
Let it cool, gently slide a knife along the edges and use a fork to lift it out of the pan
Dish and serve with chilled avocado slices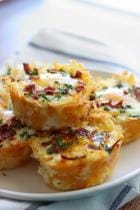 To-Go Oatmeal Cups
Ingredients: 2 eggs - ¼ c. oil of choice - ½. C. coconut sugar or honey - ½ c. applesauce - 1½ c. milk (your choice) - 2 tsp. vanilla extract - ½ tsp. salt - 1 T. ground cinnamon - 3 c. old fashioned rolled oats - 2 tsp. baking powder - Optional: your favorite toppings (fruit, nuts, chocolate chips, etc.)
Directions:
Preheat the oven to 350 degrees. Line a muffin tin with paper or paper/foil muffin liners.
In a large bowl, whisk the eggs, oil, and sugar/honey until well blended. Add the applesauce, milk, vanilla, salt, and cinnamon. Whisk until well combined. Stir in the oats and baking powder.
Fill the muffin tin with ¼ cup of the oat mixture in each muffin cup. Add your favorite toppings. Push the toppings down into the oat mixture with a spoon.
Bake for 30 minutes. Let them cool for 5 minutes before eating. Store in an airtight container or freeze in a zip top storage bag.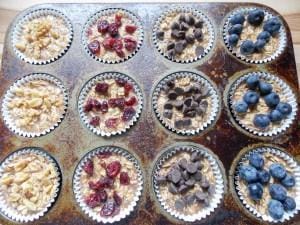 Overnight Buckwheat Cashew Parfait
Ingredients: 1 c. buckwheat groats (soaked overnight) - 1/2 c. raw cashews (soaked overnight) - 1/2 tsp vanilla extract - 1/2 overripe banana - 1/2 c. almond milk - 1/4 tsp. sea salt - 1 pint raspberries - 1 medium pear, diced - 1 T. chia seeds - fresh fruit, dried fruit, nuts, seeds, etc. to mix it up
Directions:
Drain and thoroughly rinse buckwheat and cashews.
Combine in a medium mixing bowl with vanilla extract, almond milk, banana and sea salt. Use an immersion blender (one of my MUST HAVE kitchen tools) to blend until creamy. If you don't have an immersion blender, place all ingredients in a blender and combine that way!
In a small saucepan combine raspberries and pear. Cook over low heat, smashing raspberries, until they have completely softened and pear has been broken down (around 5-10 minutes). Add chia seeds and stir. Set aside to set for 15 minutes.
Spoon buckwheat cashew mixture into glass jars (I used 4 jars, all roughly the size of jelly jars). Layer with raspberry pear compote and add fruits, nuts, dried coconut, & whatever else sounds good to you!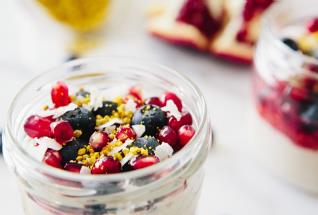 Breakfast Burritos
Ingredients: 1.25 lbs. ground turkey – 1 T. cumin – 1 tsp. chili powder – 1 (15 oz.) can black beans, drained and rinsed – ½ c. salsa -- 2 cups spinach – 5 eggs beaten – 5 egg whites – 1 tsp. salt – ½ tsp pepper – 1 c. shredded cheese – 12 whole wheat tortillas
Directions:
Brown turkey until no longer pink; season
Add black beans and salsa; mix well.
Over medium heat, sauté spinach until just starting to wilt.
In a small bowl add eggs, egg whites, milk, salt & pepper.
Add egg mixture to spinach; cook until scrambled, stirring constantly.
Add egg mixture to turkey mixture; mix well. Add ½ c. tortilla and fold. Repeat.
Can be wrapped individually and frozen. To reheat, unwrap and place in the microwave for 90 seconds, flipping over half way through.