We are super excited about our new bootcamp instructor, Robyann. She has a wealth of knowledge and experience in leading and formatting top-notch strengthening and interval training classes, and she also seamlessly incorporates fantastic corrective exercises to prep the body really well for an intense workout. In our efforts to provide a bit more consistency, you will see her now at every bootcamp class you attend! Here's a bit more about her...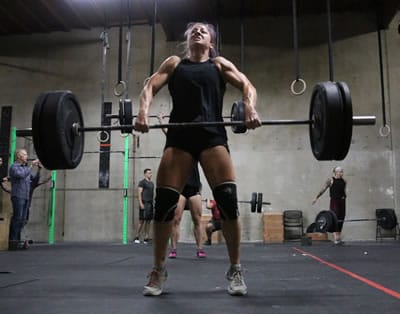 My name is Robyann, and I'm so glad to be joining the Body Basics family! I'm excited to get to know everyone and to continue building momentum and growth of the Bootcamp classes!
Here is a little bit about me: My love for fitness started when I was young. I grew up watching my dad training for Iron Man races and practicing Karate. He taught me the love of being active and how fun/rewarding it can be to push myself.
I participated in various sports growing up, but it wasn't until I found Kung Fu that I became passionate about training. I learned grit and discipline and did things I never thought I could do. Sparring was always my favorite, but I grew a love for practical self-defense and taught individuals and group classes for four years.
After eight years of Kung Fu, I was ready for a change and quickly fell in love with CrossFit. I enjoyed learning new skills and built strength like I never had before. I've coached CrossFit for three years and have competed on the world level ranking in the top 1% of athletes worldwide the last two years.
I am always working to learn and grow as a trainer and an athlete. I prioritize consistent nutrition, recovering hard, having fun and doing my best. When I'm not at a gym, you can find me studying, exploring, or hanging at home with my husband, David, and our kitty.
I'm thrilled at the opportunity to work alongside the Bootcamp crew at Body Basics and support you on your fitness journeys! Thank you for the warm welcome I've already received. I look forward to getting to know you all!
Come workout with us Monday – Friday @ 6:00am or Monday, Wednesday, & Friday @ noon in September.
Starting in October, noon classes will be available Monday through Friday also.
Unlimited Monthly Bootcamps are $89. Class packs are available as well.
Find us on MINDBODY for more pricing options, or contact us directly.